the problem
Excessive logistical energy is required to send food waste to landfill. Plus it's an environmental hazard. The food waste decomposes without oxygen (anaerobically) to produce methane, a greenhouse gas with over 20 times the global warming capacity of carbon dioxide. Decomposing food waste is also a potential source of leachates, a liquid that drains from landfills that can contaminate surface and ground water.
the solution
Introducing Smart Cara, a state of art indoor food waste recycling composter for the home. Simply load the food waste in the removable basket and turn on. In as little as 3 hours, depending on moisture content, the system will dry and grind upto 1kg of kitchen scraps, including chicken bones and seafood shells into a highly matured, nutrient-rich flake at around 10% of the original volume. This makes it an ideal additive for the garden or reduces your bin waste. There are no enzymes, pellets or additives required.
At last! an easy-to-use food waste recycling composter for your home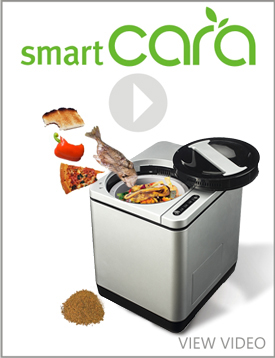 the benefits
- Deals with food waste at the source – reduces your handling costs.
- Breaks down food waste by drying then grinding the kitchen scraps into approx. 10% of the original size.
- Has the ability to grind chicken bones and seafood shells.
- Turns waste food into a dry flake, nutrient-rich food for soil, a renewable source of energy or animal feed.
- Long storage capabilities without degradation.
- Strong environmental credentials.
the features
- Depending on moisture content, approx 3 hour QUIET process.
- 3 stages, Dehydration / Grinding / Cooling.
- Low Energy Use – 0.5~1kw depending on moisture content.
- No venting, draining or additives are required.
- Unique filters eliminate odour.
- Basket has a 1kg capacity and is dishwasher safe.
- Easy one-touch operation.
- Compact size 270(W) x 300(D) x 350mm(H).
- Smart Cara is lightweight at 9kg.

Model CS10 Version 2 now available!

- 'Soft-touch' operation panel
- New self-cleaning - one touch operation
- Improved pail
- Same great results.
For more details call

0493469358

or email us

Waste Management Review magazine article September 2016
Please visit the RESOURCE CENTRE where you will find food waste environmental impact information and supporting documents that you may find useful.
DOWNLOAD DOMESTIC BROCHURE | COMMERCIAL FOOD WASTE COMPOSTERS | Contact us by EMAIL | FAQs | CERTIFICATIONS and REGISTRATIONS